Owners of superstar racehorses, like those in the Kentucky Derby name their horses after all kinds of things, especially catch phrases, famous people, or even athletes.
But one owner, Al Gold, named his race horse to raise awareness about life saving cancer technology. Hence, the name 'Cyberknife'.
Brad Cox, Cyberknife's trainer says, "Our team recognized we had a talented horse with potential on our hands, but we were thrown by the strange name. We didn't know what the name meant in the beginning."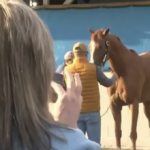 What is a CyberKnife? "It's actually a radiation machine mounted on a robot, that provides precise cancer treatment," explains Dr. Neil Dunlop, University of Louisville's Department Chairman of Radiation Oncology."This is a unique machine that is able to pin-point radiation directly at a tumor bypassing the normal tissue around a person's body, so they don't have all the typical side effects from radiation treatment," adds Dr. Dunlop.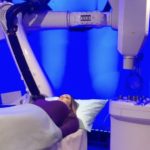 Cyberknife's (with a small k) owner, Al Gold named him after he benefited from state-of-the-art technology called CyberKnife for treatment of his prostate cancer in 2020.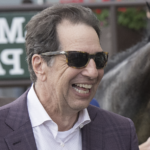 "That's why we're doing this," Gold said. "We want everyone to know that it's no big deal if you have cancer, you can get treated with CyberKnife."
Gold invited Kentucky cancer survivors treated with CyberKnife radiation therapy to meet and hangout with the horse Cyberknife.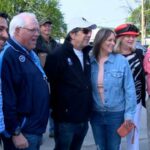 Survivor Stacy McCaslin was diagnosed with lung cancer. "It's scary, very scary even though it was stage one," Stacy said. "And never having smoked, you just don't understand why and how."
Choosing CyberKnife radiation therapy meant fewer radiation treatments, plus no invasive lung surgery for Stacy. 
She said, "I hope more doctors start treating patients with CyberKnife and more patients not only ask about it but determine if they are a candidate for it because most patients are."
For lung and brain cancer patient Vivian Wilson, CyberKnife, which was FDA approved in 2001, worked when other cancer treatments had not for years.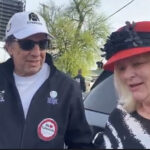 "Knowing you have an alternative treatment like CyberKnife gives you hope, don't ever give up hope," says Vivian.
The cancer survivors were thrilled to meet Cyberknife the racehorse. They along with Cyberknife's trainers and jockeys believe spreading awareness is a good and right thing to do. They hope the name brings this colt good luck along the way, in many more races ahead.
But even before thousands of fans sang "My Old Kentucky Home" under the Twin Spires at Churchill Downs and 20 horses came crashing through the racing gate, Cyberknife had already enriched a lot of lives and won. 
Throughout the past year, while Cyberknife was busy training and doing practice runs his owner was busy sharing the colt's unique name and the meaning behind the device that helped cure his prostate cancer. 
Al says, "We want everyone to know that it's not a big deal if you get cancer and you can get CyberKnife treatment. It's painless, and for me it required only five easy treatments and I was done with it."
Al as like most people who get news like this, fearful and worried about the disease, treatment options, side effects. If he would live or die and if life would ever return to normal again. After researching all his options, which everyone should do, he chose CyberKnife because he knew it would give him the best chance of life returning to normal.
Each of his 5 treatments, of which he got one every other day, lasted less than 20 minutes and he was able to maintain his normal routine with little interruption. Which was vital to Al.
CyberKnife by Accuray, also known as SBRT or Stereotactic Body Radiation Therapy is a robotic device used to treat tumors, non-invasively any where in the body, including the prostate, breast, lung, brain, spine, liver, pancreas and kidney. It is also used to successfully treat nerve disorders like Trigeminal Neuralgia. Often ending the debilitating pain with just one treatment session.
Contrary to the name, Cyberknife is not a knife, but a robot that can deliver hundreds of beams of radiation directly to its target site with pinpoint accuracy, down to less than a millimeter. That means surrounding healthy tissue is left unharmed, greatly reducing side effects that can come with radiation treatment using other types of radiation technology.
"Its missile guided technology follows the tumor even as the patient moves or breathes naturally," explains Dr. Dunlop. "I tell people that when you breathe, your heart moves, your lungs move, and tumors move, so this machine can uniquely track the movement of tumors in someone's body. It always hits its moving target."
Unlike conventional radiation therapy, in which surrounding healthy tissue is often collateral damage, CyberKnife technology can reduce that risk by focusing radiation on cancer cells, with usually little or no effect on healthy cells.
Three cancer survivors treated with CyberKnife got to meet the racehorse Cyberknife, his owner Al Gold, trainer Brad Cox, and jockey Florent Geroux.
In 2012, when Vivian was diagnosed with stage 4 lung cancer that had spread to her brain, she underwent surgery, chemotherapy, conventional radiation and CyberKnife Radio-therapy. She is currently in remission and credits her treatment for saving her life.
As for Cyberknife the horse, his trainer, Brad Cox says, "He is proving to be as resilient and determined as his owner Al Gold, who never gave up hope beating cancer and that he has a future champion on his hands."
"I have to thank Al for this opportunity with this horse," said Brad. "Just because you give them a special name doesn't mean it always works, but he's doing very well."
Al, who operates his stable under Gold Square, LLC, has owned or co-owned several horses over the past 15 years, but none have ever given him a Grade A win like Cyberknife did when he won the Arkansas Derby, or a trip to the Kentucky Derby as Cyberknife did.
"I've been around horses for the past 50 years, losing money betting on them, owning them, so it's a completely different approach to everything," Al said. "It's great to have this name highlighted so that people can become aware of it and if they do get cancer, they can get this treatment."
While Cyberknife didn't win the Kentucky Derby, win or lose, the horse, CyberKnife technology and Al Gold are winners and richer for making the world aware of a cancer treatment that too many people still don't know about and doctors may not tell them about.
As always you must be your own patient advocate. Don't just do what your doctor tells you to do without doing your own research like Al did. 
If your doctor says CyberKnife isn't for you. Get a second opinion.
Talk to CyberKnife experts like the team at the CyberKnife Center of Miami. Chances are they can help you get cancer treated effectively, safely and faster, so you can get back to the business of living life to the fullest.
Who invented CyberKnife & Understand the Technology?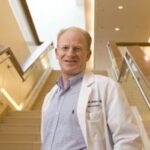 Dr. John R. Adler invented the CyberKnife. Through this invention Dr. Adler is credited with creating the broad field of image guided radiation targeting (IGRT), which today defines the most advanced form of therapeutic radiation.
Dr. Adler is an American neurosurgeon. He was born in Yonkers, New York, in 1954. He graduated from Harvard College in 1976 and Harvard Medical School in 1980 and is with Stanford University.
Here is an excerpt from the National Institutes of Health National Library of Medicine about CyberKnife written in 2010: 
CyberKnife: A New Paradigm in Radiotherapy
CyberKnife is a stereotactic radiosurgery (SRS) system. SRS is a combination of principles of stereotaxy, or three-dimensional target localization, and radiation beams from multiple directions cross-firing the tumor precisely. Due to the high degree of precision, it is possible to deliver very high dose of radiation to the target with minimal damage to the normal tissues and structures surrounding the tumor. The ideal aim is to ablate the tumor with high radiation dose non-invasively. It has been proved to be an effective alternative to surgery for tumors and selected medical conditions.
The CyberKnife concept, invented by Dr. John Adler came into practice by 1990s.A lightweight linear accelerator fitted onto an industrial robot makes treatment possible precisely in a desired way. The robotic arm has 6 degrees of freedom of movement; unlike the conventional linear accelerator, which has only rotational movement in one plane. CyberKnife treatments are non-isocentric, where beams can be directed from any desired angle. This system does not require a rigid frame to be fixed onto the skull of the patient for stereotactic setup and verification. Initially the CyberKnife was put into use for treatment of only intracranial lesions, like other stereotactic systems.[4] Subsequent developments made it possible to extend the facility to extracranial lesions also, thereby making it a whole-body stereotactic radiotherapy system.
One should understand how the CyberKnife is different from other stereotactic radiosurgery systems. There are a few unique features in CyberKnife to track the tumor precisely and deliver radiation accurately as desired.
Unlike other linac-based systems, which have accuracy in millimeters, the CyberKnife has sub-millimeter accuracy in tracking tumor position. If sub-millimeter accuracy is not achieved, it gives warning and stops treatment. The orthogonal x-ray images are taken before each beam and verified for accuracy.
There are 5 different tumor-tracking facilities in CyberKnife treatment. They are 6D skull, fiducial, X sight spine, X sight lung with synchrony, and fiducial with synchrony. These tracking methods are used in different types of sites and with various natures of the organ to be treated. 6D skull tracking is used only for intracranial lesions. Fiducial tracking can be used for any other site. The synchrony tracking feature is used for tracking any moving target in a phased manner with breathing cycles. Unlike other systems, where treatment is given on a certain fixed phase of breathing (gated therapy), with synchrony method, the robot can move in synchrony with chest movement during breathing and deliver radiation without interruption as if the tumor is locked to the beam.
Now, the CyberKnife, with its advanced technologies and complexities, gives maximum flexibility in its use to treat any lesion in any part of the body non-invasively 
This is Why You Want to Choose CyberKnife Center of Miami!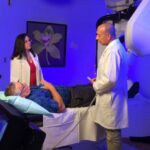 A high degree of understanding and training is essential and is emphasized before the system is put to use in clinical practice by any center. The team consisting of radiation oncologists, medical physicists and technologists should understand the principle and technological features of the CyberKnife. Clinicians should understand the tumor biology of short-course treatment with high dose/ fraction; physicists should know the accuracy and dose-delivery principles; and technologists should know the principles, the accuracy desired and achievable and consequences of errors corrected/ liberalized and their impact on treatment delivery.
The team at Cyberknife Miami is the most experienced in Miami, Florida, nationwide and the world.
We've been doing it the longest and it's all we do. Due to our vast experience we can take on the most difficult cases.
Call the top cancer experts in Miami to see if we can help you – we treat patients from all around the world 305-279-2900.