About 
CyberKnife Center of Miami
About CyberKnife Center of Miami
Cancer
Treatment Center in Miami, Florida
Established in 2003, the CyberKnife Center of Miami was the first CyberKnife center to open in the Southeastern US and the 11th in the country. Our world-class physicians are specially trained in stereotactic radiosurgery and are among the most experienced and qualified worldwide.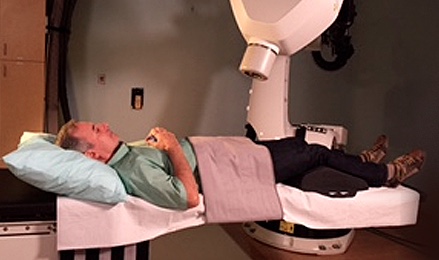 Radiation Treatments for Cancerous & Non-Cancerous Tumors
Since opening nearly two decades ago, our dedicated staff and physicians have treated thousands of patients from all walks of life with all types of tumors, cancerous and non-cancerous conditions as well as nerve disorders.
A freestanding outpatient center, CyberKnife Miami provides image-guided radiosurgery treatments using the CyberKnife.
We treat tumors of the brain, spine, lung, kidney, pancreas, liver, prostate, head and neck, as well as other conditions throughout the body where radiation treatment is indicated.
Many of our patients are treated with the CyberKnife for conditions that have been deemed inoperable or for areas that have previously received the maximum level of radiation.
As an open-staff facility, the physicians who use the CyberKnife are trained clinicians in private practice and/or affiliated with a medical center in South Florida, including 7 radiation oncologists and 17 active surgeons throughout the Miami-Dade area.
CyberKnife Miami's Founder Dr. James G. Schwade, is an internationally recognized radiation oncologist with more than 3 decades of practice in Miami. Dr. Mark E. Pomper, board certified radiation oncologist, is the Executive Director and Medical Director of CyberKnife Center of Miami.
CyberKnife Miami will perform preliminary evaluations or we can assist in referring you to a specialist if necessary. If you already have a radiation oncologist or surgeon, he or she can collaborate with the physician performing your CyberKnife treatment to ensure your cancer doctor is fully informed about your treatment.
Meet the CyberKnife Center
of Miami Team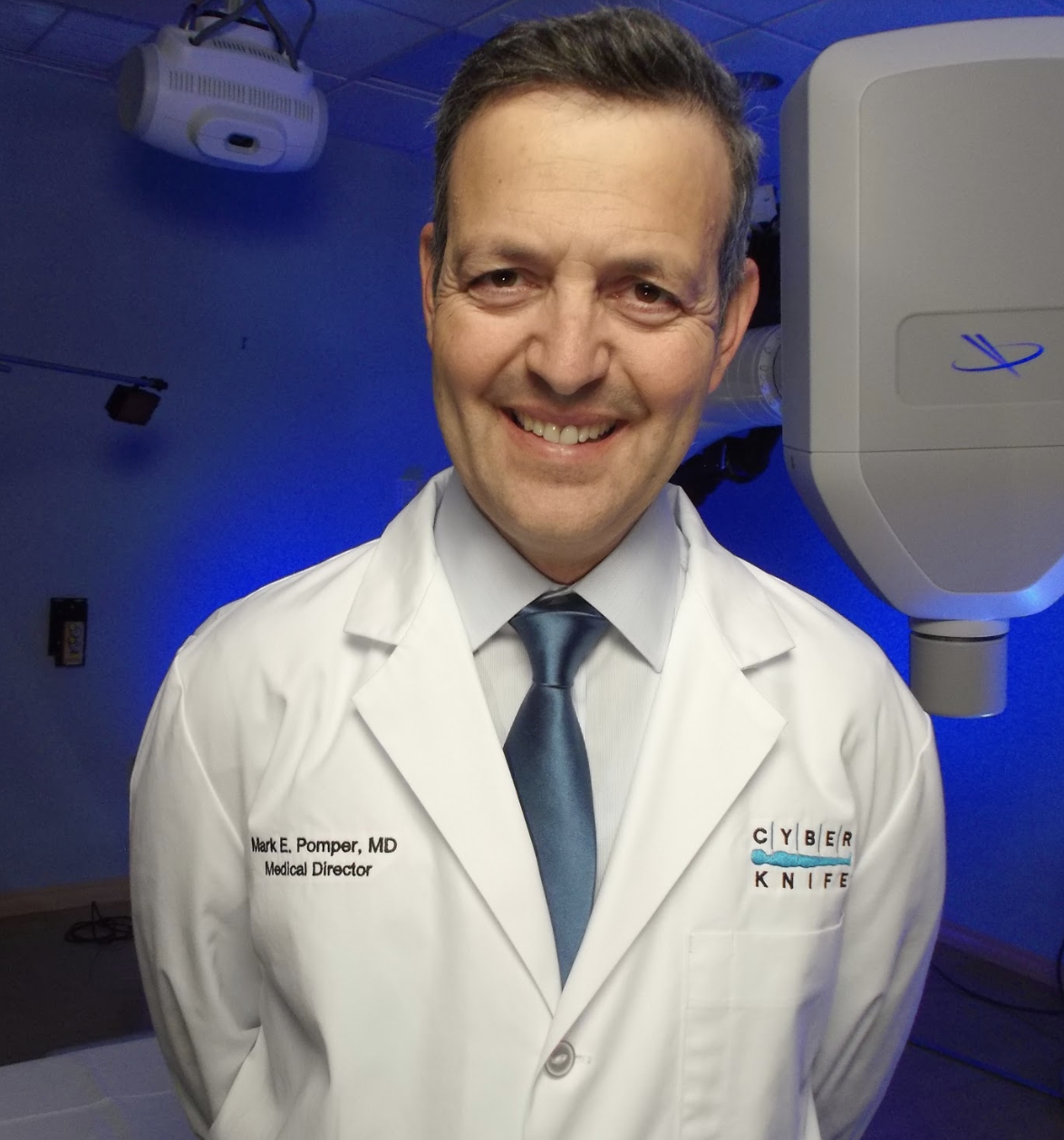 Dr. Mark E. Pomper
Medical & Executive Director of the CyberKnife Center of Miami
"My passion is helping people. In addition to curing cancer and alleviating pain and symptoms, I feel it is my mission to try to help patients understand that cancer is not a death sentence. We have many weapons to help battle this disease and CyberKnife is one of the most powerful, often helping us manage cancer much like a chronic illness."
Board Certified Radiation Oncologist, Dr. Mark Pomper, is a Summa Cum Laude and Phi Beta Kappa graduate of Dartmouth College and Duke University School of Medicine. He has also studied at Harvard University, Oxford University, University of Chicago, Princess Margaret Hospital and Hebrew University in Israel and The Hebrew Theological College in Skokie, Illinois.
Dr. Pomper has practiced radiation oncology for nearly 30 years in South Florida and has been involved with stereotactic radio-surgery for as many years. He is trained and certified to utilize the CyberKnife and the Gamma Knife and has participated in thousands of such procedures treating patients.
In addition, noticing that many patients were not getting the treatment they so desperately needed and deserved, either due to illness or immobility issues, Dr. Pomper founded and patented the concept of mobile radiation in order to bring the treatment to them. As founder and medical director of Horizon Medical Services, a mobile radiation company, Dr. Pomper has enabled thousands of patients who would have otherwise been left untreated to receive life-saving radiation treatment.
His professional experience also includes Medical Director of the Radiation Oncology Departments at Jackson South Community Hospital and Cedars Medical Center.
Dr. Pomper has also served as Instructor of Radiologic Technology for the State of Florida Office of Radiation Control and is a Pro-Assurance Malpractice Advisory Committee Member.
In addition, Dr. Pomper is a published author and has lectured extensively, providing oncology updates and the latest on prostate, breast and lung cancers, the value of early diagnosis, bone marrow transplantation, brachytherapy, esophageal cancer and malignant obstructions.
Dr. Pomper's awards include honors in Mathematics and he was named an Illinois State Scholar. He ranked 5th in Spanish Speaking Language in the state of Illinois for non-Hispanics.
Board Certified in Radiation Oncology by the American Board of Radiology, Dr. Pomper is a member of numerous state and national professional societies, including the American Society for Therapeutic Radiologists and Oncologists, Dade County Medical Association, American Medical Association, Florida Medical Association and Southwestern Oncology Group (SWOG).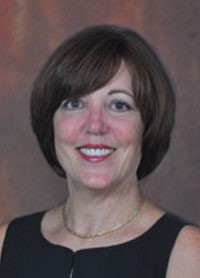 Gail L. Suarez, MSHSA, RT (R) (T)
Vice President of Operations
Gail Suarez is nationally board certified in both radiologic technology and radiation therapy. Since graduating from the University of Massachusetts School of Radiation Therapy in Worcester, Gail has accumulated more than 25 years of experience as a radiation therapist. She went on to receive her master of science in health service administration at Barry University in 2005.
Gail began her training in CyberKnife radiosurgery at the CyberKnife Center of Miami in 2004 and became manager of the CyberKnife Center of Palm Beach when it opened in October 2005.
In June 2006, Gail accepted a position at HCA–North Florida Regional Medical Center as director of their cancer center. While there, she coordinated the building of their new 18 million dollar cancer center.
Gail also worked with South Florida Radiation Oncology – Stuart in October 2009 as manager of their CyberKnife center for one year before returning to CyberKnife Center of Miami and Palm Beach as the vice president of operations in October 2010.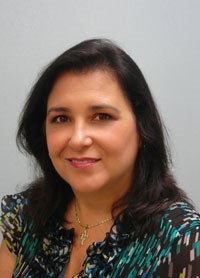 Martha L. Denault, RT (R) (T)
Chief Radiation Therapist
Martha L. Denault is nationally board certified in both radiologic technology and radiation therapy. She's a graduate of Broward College and West Boca School of Radiologic Technology, with 2 decades of clinical experience as a radiation therapist and radiographer.
Martha is our chief radiation therapist at CyberKnife Center of Miami, treating over 1,000 patients utilizing CyberKnife technology.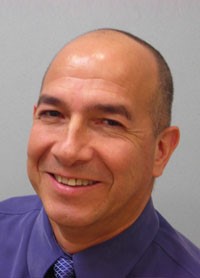 Mario Tobon, RT (R) (CT) (CV) (T)
Radiation Therapist
Mario Tobon is nationally board certified in general radiography, CT scan, cardiovascular/interventional radiology, and radiation therapy. He is a graduate of Broward College and West Boca School of Radiologic Technology with over 25 years of experience in the field. Mario has a bachelor's degree in business administration from Universidad Javeriana and three years of industrial engineering from Universidad De Los Andes in Colombia.
Mario started working at West Boca Medical Center at the radiology department in 1992, and then at Hollywood Radiation Oncology as a radiation therapist in 2001.
In 2006 Mario received training for CyberKnife, earning his certificate from Accuray. He has become an expert in the technical aspect of treating with CyberKnife and has been involved in training therapists from Mexico, Colombia, and the US in how to best utilize CyberKnife equipment.
Mario has been the academic and clinical instructor for computed tomography (CT) at West Boca School of Radiologic Technology since 2005. He began working at the CyberKnife Center of Palm Beach in 2006 and is currently a radiation therapist at the CyberKnife Center of Miami.
"I can't believe I feel so good. Life is great despite living with metastatic cancer for 20 plus years!"