CyberKnife Miami's Mario Tobon says "It's an honor to teach and train other radiation therapists and doctors, the tricks of the trade and how to use CyberKnife technology most effectively.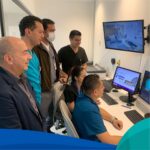 This time Mario, a nationally board-certified radiation therapist is in Bogota, Colombia working with the Luis Carlos Sarmiento Angulo Cáncer Treatment and Research Center. CTIC is the largest non-profit comprehensive care and cancer research center in Colombia and the region.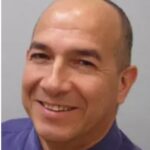 Mario's vast experience as a radiation therapist, and CyberKnife treatment expert makes him highly qualified to teach. He's been involved in training doctors and radiation therapists from all over the world, including the Bahamas, Mexico, Colombia, and the U.S. for 20 years.
Mario knows exactly how to best utilize the CyberKnife system, making sure that cancer patients receive the most effective, better, and safer treatment, while minimizing any potential side effects and still maintain quality of life before, during and after treatment.  
Mario says, "The CyberKnife is like a flight simulator. Every case is different. The radiation beams and dose have to be adjusted for each patient's specific needs to achieve the most successful results, giving patients the best chance of beating cancer or eliminating pain from nerve disorders like Trigeminal Neuralgia." 
He adds, "Many countries and cancer centers are just getting CyberKnife machines. I'm here to help support and assist them, to pass on the knowledge I've accumulated over the past 30 plus years. If problems come up before or during treatment, I can teach the medical team how to overcome them. We want the radiation oncologists and radiation therapists to know these machines inside and out. To learn the tricks of the trade."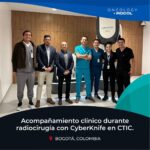 CyberKnife Miami's Gail Suarez, Vice President of Operations and Radiation Therapist says, "Our team of radiation oncologists, surgeons, medical physicists, and radiation therapists provide a level of skill and precision that matches our years of experience. They are among some of the most experienced radiosurgery specialists in the United States and the world, which is why they are often asked to train teams at other centers how to use CyberKnife's robotic system in the most effective way with the most positive outcomes."
CyberKnife Miami is also, hands down, the most experienced and qualified team in South Florida. Our extensive research, clinical and technical experience helps our physicians and radiation therapists determine if you are an appropriate candidate for CyberKnife treatment, and most patients are.
Established in 2003, the CyberKnife Center of Miami was the first CyberKnife center to open in the Southeastern US and the 11th in the country. 
Since then we have treated thousands of patients from all over Florida, the U.S., Caribbean and the world. Patients will travel hundreds and thousands of miles to get to us because they know to get the best treatment and outcome, you've got to find and work with the most experienced team you can, and that is CyberKnife Miami.
Due to our decades of experience and training we take on and are often sent the most difficult cases. Patients who were told nothing else can be done for them also come to us because most of the time something can be done to extend life, and we're not afraid to try. Our attitude is, you have nothing to lose and everything to gain. Most often we can give patients and their families the most precious gift of all, more time. Months and even years.
Call us to see if we can help you or a loved one at 305-279-2900 and go to our website now to learn more www.cyberknifemiami.com