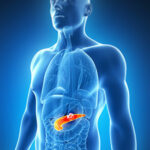 The recent death of legendary talk show host, 79 year old Jerry Springer was caused by his short battle with pancreatic cancer. Other famous people who fought and lost the battle to this aggressive cancer are Aretha Franklin, Alex Trebek, Ruth Bader Ginsburg, Patrick Swayze and, Steve Jobs.
Don't Know the Signs of Pancreatic Cancer? You're Not Alone
Despite those high-profile cases, a recent survey, by the Pancreatic Cancer Action Network (PanCAN) found most adults, 83% are unaware of the signs that could help them detect the disease earlier, when it's at its most curable stages.
Older adults were least likely to have that information, which PanCAN called troubling, given that 90% of patients diagnosed with the disease are 55 and older, so the organization is offering a guide to help people become more aware of the symptoms.
An early diagnosis could also improve a patient's treatment options and survival.
Radiation Oncologist at CyberKnife Miami, Dr. Mark Pomper says, "As pancreatic cancer starts to grow there typically are no symptoms right away. They show up later, often after it's reached an advanced stage, making it harder to treat, but not impossible." He adds, "While we often hear grim statistics about pancreatic cancer, more people are beating it due to better treatment options."
Here's What You Need to Know About Pancreatic Cancer Symptoms:
As the pancreatic tumor grows, patients will begin to feel symptoms, such as back pain, abdominal discomfort, unexpected changes in appetite, jaundice and bowel changes. Your stool can become clay-colored. You can have mucus secretions in your stool.
The most common symptoms of pancreatic cancer which bear repeating are abdominal or back pain, weight loss or loss of appetite and digestive problems. 
Other common symptoms include yellowing of the skin and eyes, known as jaundice; an oily or watery stool, and new-onset diabetes.
A brand new study found two new symptoms associated with the disease. They are feeling thirsty and having dark urine.
"Pancreatic cancer symptoms are vague and can be confused with many other abdominal or gastrointestinal issues. Understanding these symptoms along with certain risk factors and your own family history can provide confidence," said PanCAN President and CEO Julie Fleshman.
Men have a slightly increased risk than women. African-Americans, people who are obese, people with type-2 diabetes and smokers are also considered at high risk. Genetic factors can play a part as well. The BRCA gene associated with breast cancer is also associated with a higher risk of pancreatic cancer.
The Most Effective Treatment for Pancreatic Cancer
While surgery to remove the entire pancreas is how pancreatic cancer is most often treated, chemo can be used or combined with surgery, and radiation therapy can be especially effective, including for patients with inoperable tumors.
A Proven Treatment for Inoperable Pancreatic Cancer
Dr. Pomper says, "CyberKnife radiation therapy is a very targeted treatment. It destroys tumors with high doses of radiation that's so precise it doesn't damage nearby tissue and organs such as  the liver, stomach or kidneys." 
The last few years have seen advances in the treatment of pancreatic cancer — particularly for the 80% or more of patients for whom surgery is not the best option. 
The CyberKnife System gives those living with pancreatic cancer a proven, non-surgical option that delivers a unique type of treatment called stereotactic body radiation therapy (SBRT) with high robotic precision — effectively treating the cancer, while potentially helping to minimize the risk of certain side effects (such as gastric obstruction), in typically as little as 5 treatments. 
This makes the CyberKnife System a powerful option for locally advanced, medically inoperable pancreatic cancers, as well as in conjunction with surgery, chemotherapy and other treatments.
Unmatched Precision Where it Matters Most
The pancreas is an organ in the abdomen surrounded by other sensitive organs that all move with patients' breathing. As a result, treatments designed to control the cancer or manage cancer-related pain run the risk of causing unfortunate side effects if they are not precisely administered. The CyberKnife System, the first and only robotic radiotherapy system, can deliver radiation beams with sub-millimeter precision and accuracy to the pancreatic tumor as it moves with normal patient breathing or other anatomical shifts. 
The CyberKnife System uses the world's only real-time motion synchronization technology to continually track the target and automatically adapt the radiation beams position with movement of the tumor to make sure the beam stays precisely focused. This unmatched precision enables clinical teams to aggressively treat pancreatic cancer and helps to improve clinical outcomes, while potentially minimizing the risk of certain side effects that may impact patients' quality of life.
Key CyberKnife® Treatment Benefits:
Radiation treatment is non-surgical and non-invasive
Clinical evidence of good cancer control
Can significantly minimize common side effects, such as gastric or duodenal obstruction
Treatments typically completed in as little as 5 sessions
Most patients can continue normal activity throughout treatment
Typically, does not require interruption of chemotherapy cycles
Can be used in combination with surgery, chemotherapy and other treatments
You deserve the best possible treatment for your pancreatic cancer. Find a physician in your area offering the CyberKnife System and find out if CyberKnife treatment is right for you.
The team among the most experienced using CyberKnife to treat pancreatic cancer is at the CyberKnife Center of Miami.
These top cancer doctors can tell you very quickly if they can help you or not, and get you treated, very likely much faster than at any other cancer center because we put patients first.
We know how scary cancer is and there is no time to waste, especially when dealing with pancreatic cancer.
Call us at 305-279-2900 and click on this link for more details on how pancreatic cancer is treated non-invasively with CyberKnife radiation therapy.
https://www.cyberknifemiami.com/pancreatic-cancer-treatment/
Pancreatic cancer has a five-year survival rate of just 11%, according to PanCAN. 
The American Cancer Society estimates that in 2023 about 64,000 people will be diagnosed with pancreatic cancer and roughly 50,550 will die from it.
The U.S. National Cancer Institute has more on pancreatic cancer.