"It started as a small irritation on my tongue, about the size of a dime, which I had for 8 years and numerous doctors said if it hasn't turned to cancer yet, it won't."
At 70-years young, Marti took good care of herself. She exercised and ate healthy. She never smoked or drank heavily, the two main causes of head and neck cancer.  Unfortunately, that small irritation did turn cancerous and was surgically removed.
"They said they got it all, but a couple months later I felt a small irritation on the floor of my mouth. The cancer returned. This time doctors at Sloan Kettering recommended a 12-hour surgery in which they would pull 4 teeth, shave my jaw, cut out the floor of my mouth and rebuild it with a piece of my arm, and do a neck dissection. I'd wake up with a trach and a feeding tube. It's what they call their Standard of Care and they wouldn't deviate from it. At my age I didn't think I could survive such extreme surgery especially with hospital infections being so bad. There were so many unknowns, it was very frightening."
Marti started researching alternative therapies. She considered going to Europe, Mexico, the Bahamas but found a cancer center in Phoenix, AZ that combined holistic therapies with standard cancer treatments like low dose chemotherapy, known as IPT. 
"I watched their videos, read their website, talked to patients who went there and were cured or doing fine so I thought I'd try it and if it doesn't work, I can always do surgery."
Marti was treated there for 2 years when the COVID Pandemic hit and she could no longer travel to Arizona from her home in New York. 
She says, "The alternative and medical boards at the center work together and use a bunch of different therapies, including low dose chemo. They got rid of the cancer in my mouth and kept the lump in my neck (which I became aware of in December 2018) at bay, but once I stopped treatment due to the pandemic, the lump kept getting bigger and bigger."
Marti adds, "The tumor was oblong and very big. It looked like it was going to break through the skin. To try to manage it until I could return to Arizona, I sought out an alternative doctor in NY who put me on low dose chemo. The tumor was still not shrinking and that's when I started looking into CyberKnife because I knew radiation therapy was my next option. I didn't want regular radiation because I'd heard about the horrid side effects especially with head and neck cancer. I found the CyberKnife Center of Miami on-line and I knew that's where I was going because they were the most experienced and said they could help me."
CyberKnife Miami's Medical Director and Board-Certified Radiation Oncologist, Dr. Mark Pomper says, "The goal is to shrink the tumor down to nothing. The amazing thing about CyberKnife is we can deliver a very high dose of radiation directly to the tumor without compromising the surrounding healthy tissue, so you cut out the tumor without cutting. The radiation beams are pinpoint accurate. That surgery would have put her through major trauma, been horribly disfiguring and she may have needed radiation after surgery anyway, so why not start with radiation therapy and see if we can, at the very least shrink the tumor, so if she does need surgery it would be much less invasive and traumatic."
Marti's husband Shell says, "Marti is a very positive, level headed person. She's like, if this is what needs to be done, let's get it done and going to Miami from New York is a lot easier than Phoenix."
About the CyberKnife Center of Miami, Marti says, "When I called, they were terrific. Maria Borgen, the scheduling coordinator helped me fill out the paperwork, set up my schedule and even found us a hotel in the area. Everybody was wonderful. I met with the doctors right away and the team had been there a long time, so I knew they had the knowledge to do the job. They walked me though everything. It's relaxing because you feel confident, they know what they're doing. I felt safe and in good hands. It was during the worst time of COVID and we were more anxious about flying, staying in a hotel and eating out than being treated."
"Everything at CyberKnife Miami was very clean and wiped down, they checked temperatures daily and everyone wore masks."
"This was over the 4th of July weekend and the staff came in on the holiday instead of making me wait, so I could get treated and back home."
"I had five 45-minute treatments, one a day. I was a bit nervous about having to lay still with the plastic mask on my face but I thought this is a lot easier than surgery or 35 treatments with regular radiation and its burning side effects, so I surely can get through this."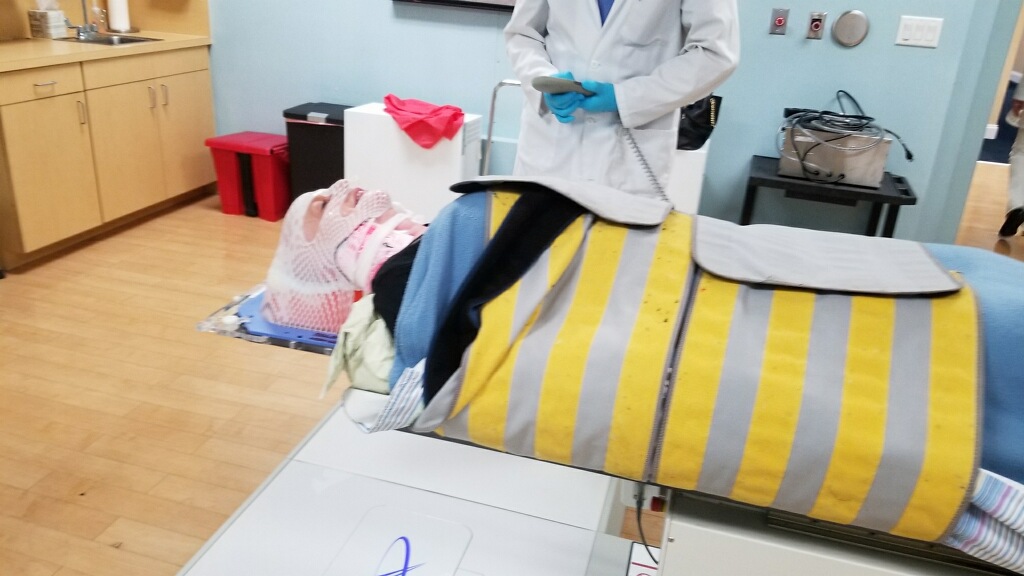 "I arrived with a lot of nerve pain in my face and neck, but it was down 50-percent soon after treatment. That's another thing, I didn't have enough pain pills, so Gail Suarez the Vice President of Operations went above and beyond the call of duty. On the 4th of July she drove to the doctor's home, got the prescription and dropped it off at my hotel so I could get it filled before flying home."
Shell says, "We give CyberKnife Miami an A-plus. I was impressed. The staff was even nice to me and the exam Marti got from Dr. Pomper, I've never seen anything so thorough and he has a great bedside manner."
It's been 2 months since Marti's CyberKnife treatment. The tumor has shrunk about 50% and the nerve pain is down to about 30%. Hopefully both will completely disappear. It could take up to six months.
Dr. Pomper says, "A lot of people don't know that CyberKnife is effective at treating head and neck tumors and many cancer centers don't offer it and doctors won't tell patients about it even if it might be the standard treatment of care in some cases. The sooner we can treat you the better. Patients need to do their homework, but it can be overwhelming. Call us, we'd be happy to explain all your treatment options to you. We'll let you know the best plan for you, whether that's CyberKnife or not. I wish Marti would have come to us sooner. It took precious time away." 
Marti had to use her personal finances to pay for the treatments in Phoenix, however Cyberknife is covered by insurance including her Medicare and supplemental plan so it didn't cost her anything out of pocket for the CyberKnife treatments.
Marti says, "If you can, take the least invasive treatment route possible. I recommend CyberKnife. I'm always talking to people about it. The name is misleading, you think it's surgery but it's not. I posted my experience on a head and neck cancer blog and people started attacking me, like I was making it up. I don't understand why people are so afraid of it. They need to do their homework and not just listen to what doctors tell them to do. It may or may not be the best treatment for their particular cancer, but you won't know unless you talk to a CyberKnife expert."
"In October I have another PET/MRI to see how the tumor is doing. Hopefully I won't need to have it zapped again by CyberKnife, but at least it's an option, only time will tell."
"I'm still getting low dose chemo and am looking forward to being pain free and able to hold my head up straight as the tumor shrinks more."
Marti adds, "A cancer diagnosis changes everybody. You realize it could be the beginning of the end. My reasons for living are my children and four grandchildren. There are a lot of things coming down the road I want to be a part of so I will do everything I can to be here to enjoy the upcoming experiences in my life."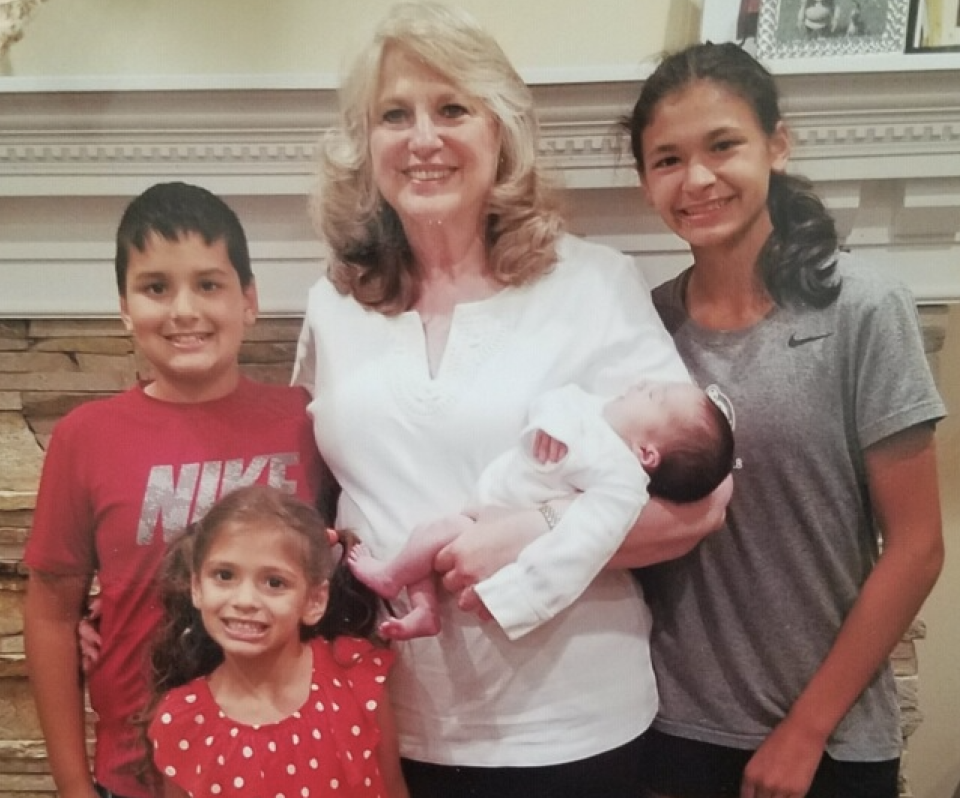 If you have any questions about the best treatment option for your particular cancer, call our Oncology Experts at CyberKnife Miami. We'd be happy to talk to you and review your medical scans and records. 305-279-2900
To learn more about what we treat and how go to our website now. www.cyberknifemiami.com