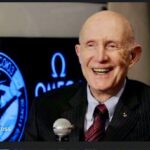 When diagnosed with prostate cancer at 92-years young, NASA astronaut and one of only 24 people who have flown to the Moon and back in record speed, Thomas Patten Stafford wasn't going to take the 'watchful waiting approach,' which is considered conventional wisdom, especially for a man his age.
"I was told by several doctors that watch and wait was the way to go because at my age I was more likely to die of something other than prostate cancer, but I said that's baloney, I want this taken care of ASAP." 
A smart reaction from this very practical and down to earth NASA astronaut, retired U.S. Air Force General and test pilot, who gives serious meaning to the catch phrase, "the need for speed." The Commander of the 1969 Apollo 10 mission to the moon remains the fastest man alive on earth. He has logged nearly 521 hours in space, flying six rendezvous on four types of spacecrafts.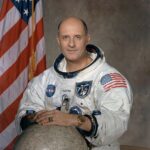 As commander of Apollo 10, he flew the first rendezvous around the moon and designated the first lunar landing site. 
He was cited in the Guinness Book of World Records for the highest speed ever attained by a human. "We made it back to earth from the moon in 42 hours, traveling through space at 24,791 miles per hour, or in Mach numbers, that's Mach 36, and to be even more precise, that's 0.0037% of the speed of light," says Commander Stafford. He adds laughing with a great sense of humor, "The only reason I'm the fastest man alive on earth is because all the other astronauts are dead."
A primary goal of his Apollo 10 mission was to scout out landing locations and determine logistics for Apollo 11's mission, which was America's first landing and walk on the moon, hailed a great success. 
But during his mission, an error in Apollo 10's flight plan caused his Lunar Module to begin spinning out of control, traveling upside down and backwards. Commander Stafford was able to get it under control again and says, "The one thing people always ask me is were you scared? The answer is no. As astronauts, fighter and test pilots we knew what the risks were and we were prepared to do what needed to be done. We knew what all the procedures and tasks were, we just followed them."
As a prostate cancer patient, Commander Stafford's mission now was to get his disease and PSA score under control. His need for speed and precision is what he likes about CyberKnife's technology. 
"I had never heard of CyberKnife, but when my urologist told me it had a success rate north of 97-to-98 percent, those were odds I was willing to take. Plus, he said it could get rid of the cancer without surgery or downtime. And because CyberKnife's beams deliver a more precise and powerful dose of radiation, your treatment is over and done with much faster, in much less time. I scouted out all my treatment options and discovered CyberKnife only required five radiation therapy sessions, one every other day for 10 days and you're done, so to me there was no other choice. That's much less time consuming than Proton Beam which requires about 35 treatments or other types of radiation that require 42 treatments, and there was a higher risk of side effects. So, I knew CyberKnife was the path I was going to take." 
While Stafford lives in Satellite Beach, FL, he says, "My urologist recommended I go to the CyberKnife Center of Miami for treatment and said he'd been sending patients there for more than a decade with great success. So I met with the medical crew right away, they explained everything clearly, made me feel so comfortable and without fear or hesitation I began treatment and am very glad I made the choice not to wait. It brought great peace of mind."
CyberKnife Miami's medical director and board-certified radiation oncologist, Dr. Mark Pomper says General Stafford made the right decision not to take the wait and see approach, "Prostate cancer is a ticking time bomb. You want to kill it as soon as possible. While some prostate cancers are slow growing, many thought to be turn out being aggressive, which is why we don't believe in watching and waiting at CyberKnife Miami. We say get it taken care of as soon as you can, so you don't have to worry about it and play the guessing game. What if you're wrong, and it turns out to be an aggressive cancer, then it becomes much more difficult to treat, much less cure."
General Stafford says, "The treatment was so easy. The CyberKnife room was cool, dark and quiet. I went to sleep during it and afterwards, I had no side effects. It didn't affect me in any way. Plus, the entire staff is so knowledgeable and helpful. Very first class. They make it a very good and easy experience for you. There's nothing to it. I recommend it to other people all the time, in fact I asked them for brochures so I can share this technology and CyberKnife Miami with as many people as possible."
While Commander Stafford admits that all his space travel has been hard on his body, he says he'd do it all over again, and should the cancer come back, he says, "I'm flying straight back to CyberKnife Miami."
CyberKnife revolutionized cancer treatment, as Commander Stafford revolutionized space travel. 
Commander Stafford says, "Back in the 60's we were the first astronauts to do everything and had to figure it out along the way, but it was a lot of fun. We made up the rules as we went along and weren't held down by red tape, like my fellow astronauts and fliers are today.
All of Apollo 10's objectives were achieved, making way for a safe and successful landing on the moon for the Apollo 11 crew. 
And all the Commander's objectives concerning prostate cancer have been achieved. With prostate cancer behind him, Commander Stafford remains active in the world of space travel and aviation, and he is called upon often for his expertise and guidance. Another mission accomplished with great success!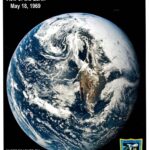 As for the question, does he think we're alone in this great big universe he says, "I can't imagine that we are. As you travel through our massive space and you're passing by galaxies, other planets, millions of stars and other things you don't recognize, it's hard to imagine that there wasn't life out there before us, is now and will continue to be." 
Just for fun check out this excellent video of Apollo 10's mission with the sights and sounds of lift off and photos  captured along the way, including of the moon's surface. Plus listen to the astronauts describe what they see, and hear Commander Stafford in his own words say, "Roger, Houston from Apollo 10, you can tell the world that we have arrived."
Other interesting facts about Commander/General Thomas P. Stafford: In 1975 he was commander of the Apollo-Soyuz Test Project mission, which culminated in the historic first meeting in space between US astronauts and Soviet cosmonauts, ending the international space race.
As Commanding General at Edwards AFB he presided over the development of the B-1A, F-15, YF-16, A-10, YC-14, and YC-15, and as US Air Force Deputy Chief of Staff for Research, Development, and Acquisitions he conceived of and started the stealth aircraft programs the F-117A, B-2A, AGM-129 and the roadmap for the F-22 Raptor. He retired from the Air Force in 1979 and in 1982 cofounded the technical consulting firm of Stafford, Burke, and Hecker in Alexandria, VA.
In 1990 in response to a request from Vice President Dan Quayle and Admiral Richard Truly, then NASA administrator, General Stafford assembled teams from the DOD, DOE, and NASA to prepare "America at the Threshold," a roadmap for the next 30 years of the US Manned Space Flight Program beyond low Earth orbit.
He chaired the Operations Oversight Committee of the first Hubble Telescope Spacecraft Servicing and Repair Mission that corrected the instrument's design and manufacturing defect, for which he received the NASA Public Service Award (1994), and also chaired the Shuttle Return to Flight Group to carry out the recommendations of the Spaceship Columbia Accident Board. He has received numerous other honors and medals from NASA and the Air Force, as well as the Congressional Space Medal of Honor, Wright Brothers Memorial Trophy, and AIAA Chanute Flight Award, to name just a few. In addition to his NAE membership, he is a fellow of the American Astronautical Society, American Institute of Aeronautics and Astronautics (AIAA), and Society of Experimental Test Pilots, and has been inducted into the Astronaut Hall of Fame and National Aviation Hall of Fame.
General Stafford received his BS with honors, in electrical and mechanical engineering, from the US Naval Academy and graduated 1st in class at the USAF Test Pilot School in 1959.