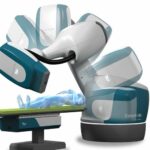 While the CyberKnife robotic system was FDA approved for the treatment of tumors and nerve disorders in 2001 and has successfully treated hundreds of thousands of patients in America and worldwide for more than two decades, surprisingly many people still do not know about it. 
A big reason for that is CyberKnife has not been made available in all major cities by big hospitals and medical centers. They simply have not bought this much improved radiation therapy system. And if the medical center you are going to does not have it, their doctors are not likely to tell you about it. Even if you ask for it, they may say it will not work for you, when it very well might be your best treatment option. Why won't they send you to a CyberKnife center, even if one is nearby? Because they want to keep your medical dollars at their medical facility.
But that is rapidly changing, because more people are hearing about this technology and are even demanding it. 
In April of 2023, Accuray, the maker of CyberKnife announced that it had shipped out 30 systems in the U.S. and other countries – setting a new record for quarterly shipments.
So do not be surprised if you see more CyberKnife centers popping up in the South Florida area and other cities. While the majority of CyberKnife machines are found in hospital settings, free standing outpatient facilities, like the CyberKnife Center of Miami are still few and far in between and second in terms of market share.
CyberKnife Is a Growing Market
Still, according to the latest research, you can't stop progress and the global CyberKnife market is growing – and will continue to grow because, unfortunately we are seeing more cancer cases and there is an increasing desire by patients to have non-invasive or minimally invasive treatments that require many fewer treatments, resulting in the least disruption to their busy lives, which is extremely important to them.
What does this growth mean for patients? 
It means more patients will have easier access to this superior technology.
Experience with CyberKnife Matters
However, keep in mind, when it comes to treating your cancer, experience is also paramount. 
If your tumor, or cancer requires radiation, your first call should be to the most experienced CyberKnife team you can find, and in South Florida, those top cancer experts are at the CyberKnife Center of Miami, a premier cancer treatment center in South Florida.
CyberKnife Miami was the first CyberKnife center to open in the Southeast United States back in 2003. This team is one of the most experienced working with the technology hands down.
Since then, we have treated thousands of patients from Miami-Dade, Broward, Palm Beach, and Monroe counties as well as patients from across the country and even the world. Because of our vast experience we are asked to teach medical staff at other centers how to use CyberKnife. As with anything, experience greatly increases a patient's chances of getting the best result possible. Our experience allows us to take on even the most difficult and complicated cases.
Dr. Mark Pomper, board-certified radiation oncologist and medical director of CyberKnife Miami says, "Some medical or cancer centers that have CyberKnife technology do not have as much experience as we have using it. So, they get scared when they see a big tumor and think it is not worth treating or are worried about complications. Other doctors feel if it is incurable why be aggressive? We feel the opposite. We feel why not try. You have nothing to lose and everything to gain, including the most precious gift of all, time."
But that's CyberKnife Miami's advantage. We know how to treat tough cases as well as more simplistic ones.
"This is what we do all day, every day. We know what can and cannot be treated, and at the very least we are going to give it our best try. We put patients first," says Dr. Pomper.
This video from the experts at CyberKnife Miami details the exact way CyberKnife treatments work. 
CyberKnife uses a noninvasive, state-of-the-art radiation treatment system for cancerous and non-cancerous tumors and other medical problems, such as nerve disorders like Trigeminal Neuralgia. 
The technology uses stereotactic body radiation therapy (SBRT), to deliver precise radiation beams directly to the tumor, leaving nearby healthy tissue and vital organs unharmed. According to a video by Accuray, the maker of CyberKnife, you can think of CyberKnife treatment as a laser-focused faucet that moves with the tumor so only the tumor is targeted.
For patients, it is not a difficult experience. Their only job is to relax and let the machine do all the work. The CyberKnife system takes real-time images of the tumor to accurately track it with every movement and as you breathe naturally. The robotic arm delivers pinpointed radiation directly to the tumor. If you or the tumor moves, the robotic arm makes real-time adjustments, moving in sync with the tumor to prevent damage to nearby structures and tissue.
Since CyberKnife is so precise, it can deliver higher doses of radiation in fewer treatments than conventional radiation. With CyberKnife, most patients need one to five treatments as opposed to 25 to 40 or more with conventional radiation therapy.
The treatments are pain free. There is no cutting and most often little to no recovery downtime. 
However, depending on the type of cancer being treated, there can be some side effects, usually some fatigue. Your medical history and type of cancer being treated may make you more prone to any side effects. The good news is most often they are treatable with over-the-counter medications and rest assured, the experts at CyberKnife Miami will be with you every step of the way to help you ease any unwanted side effects should you have any.
South Florida Cancer Treatment Center
You should also know that CyberKnife can most often treat patients who were told they cannot have any more radiation and patients whose tumors were deemed inoperable, like lung cancer and lymph node cancer patients.
CyberKnife treatment can also be used on its own or in combination with other therapies, including surgery, chemotherapy or immunotherapies and targeted therapies. 
If you would like to find out more about cancer treatment with CyberKnife, call us now at 305-279-2900 or go to our website now for more information www.cyberknifemiami.com.