When Danny was first diagnosed with a Pancoast Lung Tumor, he was told by his doctors in Texas that there wasn't much they could do for him and even with cancer treatment he wouldn't live more than a year.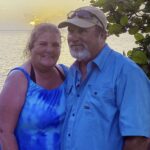 That was three years ago and Danny is still alive and doing quite well after being treated at the CyberKnife Center of Miami. We continue to treat him as needed.
Unlike other cancer centers, our top cancer doctors and team believe, it's always worth a try and most often we can help patients, at the very least be more comfortable, get pain relief and buy them the precious gift of time. 
We give patients not just hope but life for as long as possible.
Here's Danny's story: "Hearing you have cancer is devastating, especially cancer that cannot be cured."  
That's how Melissa Jo Rogers, a Louisiana resident, describes the moment she found out her husband, Danny, had what's called a Pancoast lung tumor, which is a very aggressive tumor.
According to healthline.com, as the tumor grows, it invades the nerves, muscles, lymph nodes, connective tissue, ribs and upper vertebrae. It can cause severe shoulder and arm pain as well.
On average, the five-year survival rate for this type of cancer is 30-to-50 percent.
"Danny was 55 years old. The doctor said the large tumor was inoperable. You must do chemo, 45 days of radiation and you have about a year to live," says Melissa after the couple met with a doctor in Houston.
"And the way they delivered this tragic news to us was horrible. They were cold and showed no compassion. It was unbelievable, too much to bear," adds Melissa.
Danny and Melissa, who were devastated at the prognosis, decided to do more research, and came across the CyberKnife Center of Miami.  
"I was beside myself. I was losing hope. One afternoon coming back home to Louisiana from Houston, I was driving in pouring rain, I got a call back from the CyberKnife Center of Miami. Gail Suarez, a radiation therapist and the Vice President of Operations said they got Danny's medical records and could treat that big tumor and it wouldn't come back," explains Melissa, who often speaks for Danny.
"I swear, suddenly it stopped raining, the sky opened up and the sun was shining bright. I felt such an immense sense of peace, it was an answer to my prayers. It was the best Christmas present we've ever gotten," she says.
"I knew this was the place to go, and it would work. So off we went to CyberKnife Miami to get treated and it was all so easy. Danny didn't feel a thing during treatment and no side effects afterwards," Melissa explains.
Lung cancer is one of the most frequently treated types of cancer at the CyberKnife Center of Miami.  We use state-of-the-art radiation technology called Stereotactic Body Radiation Therapy or SBRT to treat lung cancer with precision, no downtime and few, if any side effects.
The robotic and missile guided arm on the CyberKnife machine targets the tumor to destroy it and follows the tumor as the patient breathes normally, hitting only the tumor, not surrounding healthy lung tissue or vital nearby organs like the heart. No other radiation therapy system can do this. And that greatly reduces the risk of side effects and increases the success and/or cure rate.
 "A lot of medical or cancer centers that have CyberKnife technology don't have as much experience as we have using it. So, they get scared when they see a big tumor like Danny's and think it is not worth treating or are worried about complications. Other doctors feel if it's incurable so why bother and be aggressive?" explains Dr. Mark Pomper, Board Certified Radiation Oncologist and Medical Director of CyberKnife Miami.
But CyberKnife Miami is different because of our years of experience.
"This is what we do all day, every day. We know what can and cannot be treated. We looked at what we could do for Danny. His treatment was successful, and he could go a long time before he gets any complications. It's defensive medicine," Dr. Pomper continues. 
CyberKnife treatment can be done in conjunction with chemotherapy, that's what Danny did, or it can be done on its own, depending on each patient and the treatment plan suggested.
Side Effects From CyberKnife Can Include:
Fatigue
Coughing
Side effects are minimal and usually go away quickly
"We know it's extraordinarily unlikely we can cure Danny, but we can give him quality of life while we extend his life. He is doing so well and can for years. It is a different philosophy that is emerging, and it seems to work," says Dr. Pomper. "You should never just write a patient off."
Since Danny's cancer is metastatic, it has and will likely show up in other parts of his body. When that happens he goes right back to CyberKnife Miami for another treatment session.
"According to the doctors in Houston, Danny should have died in March three years ago and he's still doing very well," Melissa says.
"Danny is not a talker, but he's a true believer and won't go anywhere else but CyberKnife Miami. He has hope now. I see him happy and living life to the fullest. They've given us hope when we were in despair," Melissa says.
"I tell Gail and Dr. Pomper all the time, God sent you to us. This is the answer to our prayers. I know Danny's time is in God's hands, but I want as much time as I can get with him, and CyberKnife Miami is giving us that precious gift," Melissa explains.
Extra time every day to spend with their children and grandchildren, especially during the holidays. 
Let's face it, getting a cancer diagnosis is very scary. More than any thing you want to get it treated as fast as you can and get it over with.
But many patients discover trying to get treated can be scarier than the diagnosis, and a painfully slow process. Getting everything set up to start treatment is often a nightmare, including getting the necessary scans for proper diagnosis, getting an appointment to see the right cancer specialists and scheduling treatment appointments. 
It can be extremely frustrating since every cancer patient knows time is of the essence. The sooner you get treated the better chance of beating cancer. Delays are mentally traumatic, adding unnecessary stress.
That's where the CyberKnife Center of Miami is in a league of its own. We help you with all of that. We make the whole process as quick and easy as possible.
We hold your hand every step of the way. We put patients first. You have our utmost commitment and compassion.
If you would like to find out more about lung cancer treatment or any other cancer treatment with CyberKnife, call us at 305-279-2900 or go to our website now https://www.cyberknifemiami.com/lung-cancer-treatment/