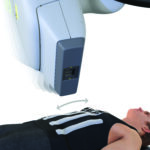 There is no question that word of mouth absolutely saves lives when it comes to cancer treatment. Just ask the experts at the CyberKnife Center of Miami, the premiere radiation cancer treatment center in South Florida.
"It is not unusual from time to time to see other family members and friends of patients who have been treated here because they know CyberKnife works, and we treat them the way they should be treated, with great respect and care. We hold their hand every step of the way to make the process as easy as possible, with the least disruption to their lives. Not just our patients — but we also help their families feel as comfortable as possible," says Gail Suarez, CyberKnife Miami's vice president of operations.
CyberKnife Miami uses a form of pinpoint radiation called stereotactic body radiation therapy or SBRT to kill cancer cells while leaving healthy tissue unharmed. CyberKnife is non-invasive and can be used for lung, brain, head and neck, spine, liver, pancreas, prostate and kidney cancers, according to Accuray, the maker of CyberKnife.  
It's also been proven to help treat acoustic neuromas, benign tumors growing on the nerve for balance and hearing, as well as trigeminal neuralgia, a chronic pain disorder that causes severe facial pain.  
CyberKnife Sibling Success Story:
Siblings Mike and Liz believe they're both alive today thanks to CyberKnife Miami.  The two have always been close, but cancer brought them even closer.
About 10 years ago, Mike was diagnosed with prostate cancer. He opted for treatment by the experts at CyberKnife Miami.
According to a 12-year study presented at the American Society for Radiation Oncology meeting in 2020, SBRT has high rates of long-term cancer control with mild toxicity.
Mike credits CyberKnife with saving his life.
"If you get cancer go to CyberKnife Miami to see if you're a candidate for CyberKnife radiation therapy," Mike says. "It was five easy treatments, about 20 minutes each over ten days and I had absolutely no side effects, it didn't slow me down at all and I haven't had a problem since. I don't feel any different today than before I had prostate cancer."
And he tells everyone he can about his CyberKnife story. But there was no one more important to hear the message than his sister, Liz.
She was diagnosed with colon cancer years after Mike's diagnosis. She opted for surgery and chemotherapy. Yet her cancer returned three years later, and it had spread to her liver.  Again, doctors suggested surgery and chemotherapy. Liz had surgery and chemotherapy, but another lesion appeared in her pelvis. She was again offered chemotherapy.
"There's no way I'm doing six months of chemo again, it was hell," Liz says.
Mike immediately called CyberKnife Miami. Our experts reviewed Liz's scans and determined CyberKnife was an option for her.
"I drove Liz there for her evaluation, and everyone welcomed her and me again with open arms. I told Liz, you're in good hands. I would go to the end of the earth to get her to CyberKnife Miami," Mike says "And she couldn't have gotten a better result. I told Liz, CyberKnife was a lifesaver for me, and it will be for you too." 
For Liz, and other cancer patients, CyberKnife is being used with great success. 
It is used to treat tumors in people who are not candidates for surgery, those who choose not to have surgery, or those who have failed or don't want chemotherapy treatment and those who have had previous radiation to the area. 
Liz says, "CyberKnife saved me. If the cancer comes back and I can't be treated with CyberKnife, I'll live with it until God calls me home. I've got a lot to live for. I've got three children and six grandchildren. I look forward to everyday and being alive."
Cancer Treatment Miami
Mike and Liz's story is a good reminder that you must be your own patient advocate, and sometimes listening to friends and family, doing your own research and understanding the science are your best bets when fighting cancer.
CyberKnife Miami has helped thousands of patients – even patients who were told they couldn't have any more radiation and patients whose tumors were deemed inoperable, like lung cancer patients and lymph node cancer patients.
CyberKnife treatment can be done on its own or in combination with other therapies depending on the type of cancer.  
Side effects with CyberKnife can also vary depending on the cancer and a patient's overall health, but they usually are minimal and diminish quickly.
If you would like to find out more about cancer treatment with CyberKnife, call us at 305-279-2900 or go to our website now for more information www.cyberknifemiami.com.
And for all the latest medical and cancer news follow us on Facebook – Instagram and YouTube