Cyberknife the racehorse will have an opportunity to end his career with a win in the $3 million Pegasus World Cup Invitational. The list of 12 horses who've been invited was released and Cyberknife who won the Arkansas Derby and the Haskell last year – is one of the headliners. It'll be the final race before retirement for Cyberknife, a winner of nearly $2.1 million so far in his career.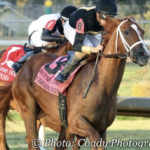 The winner of the Pegasus will receive nearly 2-million from the purse.The race will be Saturday, January 28 with an unparalleled racing experience at Gulfstream Park in Hallendale, FL
We'll be cheering for Cyberknife to win. The racehorse was named by his owner after being successfully treated for prostate cancer with CyberKnife. Al Gold wanted the world to know about the life saving cancer treatment and his horse has done more to educate the world about CyberKnife technology than any advertising campaign ever could.
If you've been diagnosed with cancer, call a CyberKnife center near you to see if you are a candidate for this non-invasive cancer treatment. Most patients are. CyberKnife dissolves tumors with the most powerful targeted radiation therapy. Within weeks tumors shrivel up and die and you get on with life. If you have any questions, our team at the CyberKnife Center of Miami can answer them. We are the most experienced team in South Florida and even world wide. We've successfully treated thousands of patients since opening our doors in Miami nearly 20 years ago. You can reach us at 305-279-2900 or go to our website now to learn more. www.cyberknifemiami.com