Study After Study Confirms CyberKnife Radiation Therapy is Superior to Regular Radiation Therapy for Treating all Kinds of Tumors – Here is yet Another Study Proving it for Painful Spinal Metastases Published in the Lancet Oncology Medical Journal by Prof Arjun Sahgal, MD 
Summary: Stereotactic body radiotherapy versus conventional external beam radiotherapy in patients with painful spinal metastases: an open-label, multicentre, randomised, controlled, phase 2/3 trial
Background: Conventional external beam radiotherapy is the standard palliative treatment for spinal metastases; however, complete response rates for pain are as low as 10–20%. Stereotactic body radiotherapy delivers high-dose, ablative radiotherapy. We aimed to compare complete response rates for pain after stereotactic body radiotherapy or conventional external beam radiotherapy in patients with painful spinal metastasis.
Methods: This open-label, multicentre, randomised, controlled, phase 2/3 trial was done at 13 hospitals in Canada and five hospitals in Australia. 
Patients were eligible if they were aged 18 years and older, and had painful (defined as ≥2 points with the Brief Pain Inventory) MRI-confirmed spinal metastasis, no more than three consecutive vertebral segments to be included in the treatment volume, an Eastern Cooperative Oncology Group performance status of 0–2, a Spinal Instability Neoplasia Score of less than 12, and no neurologically symptomatic spinal cord or cauda equina compression. 
Patients were randomly assigned (1:1) with a web-based, computer-generated allocation sequence to receive either stereotactic body radiotherapy at a dose of 24 Gy in two daily fractions or conventional external beam radiotherapy at a dose of 20 Gy in five daily fractions using standard techniques. 
Treatment assignment was done centrally by use of a minimisation method to achieve balance for the stratification factors of radiosensitivity, the presence or absence of mass-type tumour (extraosseous or epidural disease extension, or both) on imaging, and centre. 
The primary endpoint was the proportion of patients with a complete response for pain at 3 months after radiotherapy. 
The primary endpoint was analysed in the intention-to-treat population and all safety and quality assurance analyses were done in the as-treated population (ie, all patients who received at least one fraction of radiotherapy). 
Findings: Between Jan 4, 2016, and Sept 27, 2019, 229 patients were enrolled and randomly assigned to receive conventional external beam radiotherapy (n=115) or stereotactic body radiotherapy (n=114). All 229 patients were included in the intention-to-treat analysis. 
The median follow-up was 6·7 months (IQR 6·3–6·9). At 3 months, 40 (35%) of 114 patients in the stereotactic body radiotherapy group, and 16 (14%) of 115 patients in the conventional external beam radiotherapy group had a complete response for pain (risk ratio 1·33, 95% CI 1·14–1·55; p=0·0002). 
This significant difference was maintained in multivariable-adjusted analyses (odds ratio 3·47, 95% CI 1·77–6·80; p=0·0003). 
The most common grade 3–4 adverse event was grade 3 pain (five [4%] of 115 patients in the conventional external beam radiotherapy group vs five (5%) of 110 patients in the stereotactic body radiotherapy group). 
No treatment-related deaths were observed.
Interpretation: Stereotactic body radiotherapy at a dose of 24 Gy in two daily fractions was superior to conventional external beam radiotherapy at a dose of 20 Gy in five daily fractions in improving the complete response rate for pain. 
These results suggest that use of conformal, image-guided, stereotactically dose-escalated radiotherapy is appropriate in the palliative setting for symptom control for selected patients with painful spinal metastases, and an increased awareness of the need for specialised and multidisciplinary involvement in the delivery of end-of-life care is needed.
The trial is registered with ClinicalTrials.gov, NCT02512965.
Go to CyberKnife Miami's website for more information on treating spinal tumors non-invasively and call our spinal tumor experts to find out if we can help you or a loved one 305-279-2900
https://www.cyberknifemiami.com/spinal-tumors/ 
At the CyberKnife Center of Miami – The Beam of Life – we offer patients a non-invasive option for primary and metastatic spinal lesions that has great success.
Unlike conventional radiation therapy, during which low doses of radiation are delivered over several weeks, the CyberKnife can treat a tumor in one to five days by delivering a high dose of radiation with extreme pinpoint accuracy.
CyberKnife is used successfully to treat lesions in people who are not candidates for surgery or for those that chose not to have open surgery.
Spinal tumors present a treatment challenge because the spinal cord can receive only limited amounts of radiation before being damaged. Sometimes, doctors are limited because the spinal cord has already received the maximum dose. CyberKnife can be the best treatment option in these cases.
How Does CyberKnife Treat Spinal Tumors?
CyberKnife's robotic missile guidance technology allows us to achieve a high level of accuracy by pinpointing a tumor's exact location throughout the treatment resulting in successful outcomes. The sophisticated software uses X-ray images taken during treatment to precisely deliver radiation to the tumor, while minimizing damage to the surrounding sensitive structures.
Spine tumors are also challenging to treat because they move as the patient breathes. Conventional radiation therapy cannot account for this movement, so surrounding healthy tissue is damaged by the radiation.
The CyberKnife system can continuously pinpoint and follow a tumor's exact location, as the patient breathes normally while on the treatment table, enabling 100 to 200 radiation beams to be delivered from different angles, all attacking the tumor.
Using this method, the CyberKnife System is able to deliver the highest dose of radiation possible to the tumor while avoiding damage to the surrounding sensitive spinal cord tissue and other critical structures.
The doctors may choose to deliver the treatment in one session or up to five treatments over several days.
The CyberKnife treatment is completely pain free. Patients dress comfortably in their own clothes and can bring music to listen to during the treatment.
Nothing will be required of the patient during the treatment, except to relax and lie as still as possible. In fact, patients often sleep through the treatment.
After completing the CyberKnife treatment, patients will schedule follow-up appointments.
Keep in mind that the tumor will not suddenly disappear. In fact, it could take several weeks or longer to determine the effectiveness of the CyberKnife treatment.
Response to treatment varies from patient to patient. Clinical experience has shown that most patients respond very well to CyberKnife treatments.
Angie had her spinal tumors treated at CyberKnife Miami and says,
"I never thought I would feel good enough to dance again."
As a TV news anchor and reporter, 37-year-old Angie Perez is used to working long hours and hitting the red carpet in stilettos covering entertainment news, plus modeling.
"I'm not one to complain, but once in a while I'd get back pain that I blamed on high heels, being on my feet a lot and exercising too much but it would go away with over the counter pain meds."
"They told me there was no danger to the spine and that the spinal tumors weren't doing immediate damage."
Angie was prescribed physical therapy to strengthen her spine and pain medication.
"Nothing worked. Instead I got hives and swollen eyes. I couldn't go on the air. It was affecting my career. The pain was so bad in my legs that natural childbirth was a walk in the park."
Angie continued seeing doctors and was wrongly told by one that the spinal tumors were cancerous.
In the meantime, the numbness and weakness in Angie's legs was getting worse. "I feared permanent nerve damage and ending up in a wheelchair if this went on much longer."
Doctors finally did surgery placing three titanium rods in Angie's back to stabilize her spine. She then received treatment with CyberKnife Radiation Therapy to one of the spinal tumors, which was getting bigger. The CyberKnife delivers a high dose of radiation with pinpoint accuracy to the tumor, causing it to shrink, while leaving surrounding tissue unharmed.
"The biggest mistake was not treating me right away. I walked around for six years with numb legs. Sometimes I couldn't get out of bed and had to crawl to the bathroom."
"Within 5-months after treatment I was back in 5-inch heels."
However, a follow up visit discovered Angie's other spinal tumor was growing dangerously bigger. Radiation Oncologist, Dr. Mark Pomper used CyberKnife again to treat it at the CyberKnife Center of Miami. Dr. Pomper says, "CyberKnife Radiation Therapy is a great option for spinal tumors because it's non-invasive and, if possible you should always try non-invasive treatments first."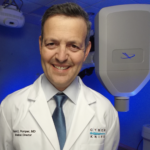 The CyberKnife's radiation beams kill tumor cells making it less likely they'll start growing again.
Angie had a very good response to CyberKnife also known as Stereotactic Body Radiation Therapy or SBRT.
Dr. Pomper says, "Studies show CyberKnife is often quite successful in achieving complete pain relief. When I saw Angie last, she looked like a different person. She was back on her feet and not having much discomfort. We're hoping not to see her again."
Dr. Pomper says if a doctor recommends surgery or other types of radiation for a spinal tumor, get a second opinion because most people aren't aware of CyberKnife's capabilities, excellent results and how easy it is for the patient, requiring fewer treatments with no down time.
Angie's says, "When all hell was breaking loose, I thought this can't kill me, my life isn't complete yet. I just wanted to get on with my life and back to work full time."
"Right now I'm feeling good. I'm walking around airports, carrying luggage and wearing stilletos again."
"I'm grateful and blessed to have become an American citizen and be treated in this country. If I'd still be in Venezuela, I don't know where I'd be now.