The success rate for treating brain or spine meningiomas with CyberKnife stereotactic radiosurgery is very high. In fact, about 95 percent of meningiomas stop growing after one treatment or a small series of treatments.
While classified mostly as benign tumors, meningiomas can arise in the brain or spine, and as they grow can cause life-threatening complications.
Maria's Brain Tumor Victory with CyberKnife: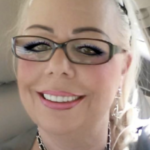 Maria Nin of Miami was 60 years old when she went to visit an eye doctor for her headaches. She thought they were being caused by long hours working on the computer, or perhaps she needed glasses. After ruling out both possibilities, the optometrist sent her to a neurologist. 
Maria recalls, "The neurologist thought I was developing migraines and scheduled an MRI. When he said, you have a brain tumor, called a Meningioma behind my left eye; I was completely paralyzed and devastated. Even though it was benign, my husband and I were crying." 
Typical treatment options for growing brain tumors include surgery to remove them or radiation therapy like CyberKnife. First Maria met with the board-certified neurosurgeon, Dr. Aldo Berti.  "Surgery was not an option for Maria because of where the tumor is located and why would you do surgery when there is an excellent non-invasive treatment option?" commented Dr. Berti.
He then referred Maria to Board Certified Radiation Oncologist, Dr. David Huang at the CyberKnife Center of Miami for treatment. Left untreated Maria's tumor could have caused vision loss and brain damage but Dr. Huang assured Maria that wasn't going to happen to her. 
Soon after she started treatments with the CyberKnife system her headaches went away, a sign that the treatment was eradicating her tumor.  Now Maria is grateful for her new lease on life. She said, "After being diagnosed with a brain tumor, I thought my life was over but not anymore. Now I look forward to a long life with my family. I've been reborn thanks to CyberKnife. I want the world to know I'm doing great and we tell everyone we can about CyberKnife Miami."
Click here and listen to Maria explain how her CyberKnife treatment went at CyberKnife Miami:
Treatment Options for Meningiomas: 
Treatment options are microsurgery to remove it or radiation therapy like CyberKnife.
A major advantage to CyberKnife is that it's non-invasive and doesn't require a metal frame be screwed into the patient's skull to perform treatment like with the Gamma Knife.
Another advantage of CyberKnife treatment is the ability to deliver treatment in one to five sessions, which makes it possible to more safely treat some meningiomas that are larger or located next to critical structures like the optic nerve.
The CyberKnife uses highly focused and precisely aimed radiation beams that destroy the tumor while sparing surrounding healthy tissue.
The CyberKnife will move slowly around you during treatment. You won't feel a thing; it's completely pain free. Patients dress comfortably in their own clothes and can bring music to listen to during the treatment. Nothing will be required of the patient during the treatment, except to relax. In fact, patients often sleep through the treatment.
If patients have symptoms like headaches, double vision, seizures, or other symptoms, these likely will improve after CyberKnife, though improvements typically take several months or longer in some cases.
At the CyberKnife Center of Miami, we understand that the diagnosis and treatment of a meningioma may be a very emotional experience for you and your loved ones. That's why our staff takes every precaution to put your mind at ease. We will explain the treatment process, procedure, and benefits so you know exactly what to expect.
If you have been told you have a meningioma, you owe it to yourself to contact CyberKnife Miami to see if you might be a candidate for CyberKnife stereotactic radiosurgery. Call us today at (800) 204-0455.