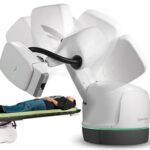 CyberKnife is honored to be named by the Medical Society of Mechanical Engineers as one of 7 Medical Robots That Could Save Your Life! Here's what the MSME wrote about CyberKnife technology:
The CyberKnife System is a non-invasive treatment for cancerous and non-cancerous tumors and other conditions where radiation therapy is indicated.
The business end of the CyberKnife looks like a giant upside down Pepto Bismol bottle, about to pour its contents all over the patient below. But what it pours is a high dose of radiation with pinpoint accuracy.
It owes this skill to its linear accelerator.
The beam of radiation it sends out is precise enough to seriously curtail exposure to healthy tissue surrounding the target.
The CyberKnife can be aimed at tumors all over the body without the need for incisions or surgery.
The system uses a technology called Synchrony that monitors motion and adjusts the beam accordingly.
So, patients needn't worry about staying absolutely still and require no restraining devices or breath holding. Patients don't even need anesthesia—the treatment is painless—and can eat and drink whatever they want before treatment.
Our radiation oncologists, radiation therapists, physicists and support staff have been treating patients for 20+years in South Florida using CyberKnife technology, and long before that with older forms of radiation therapy. It is why we do not fear taking on the most complicated and difficult cases, and are often sent to us by doctors and patients seek us out.