When it comes to horse racing, sometimes the long shot wins. That is what happened in the Arkansas Derby in April with a horse named, Cyberknife.
The Short Story about the Long Shot
The three-year-old colt won the race by 2 ¾ lengths.
His odds were 8-to-1. And yet this chestnut-colored, determined horse pulled off the win in Arkansas and is now heading to the Kentucky Derby, which will take place May 7th. That is quite a victory.
Check out the video of his victory at Oaklawn Park in Hot Springs, Arkansas, which is about an hour southwest of Little Rock.
"The Arkansas Derby winner," proclaims the announcer, "And his name is Cyberknife."
And while Cyberknife, the horse, may not have been favored, if you knew anything about his name, you would realize the odds may have been with him all along.
CyberKnife: What is in a Name?
After all, there is a lot in a name – especially the name Cyberknife. Cyberknife's owner, Al Gold, named the horse after a treatment – aptly called CyberKnife — used to treat his prostate cancer.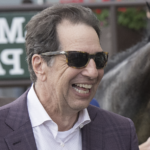 Gold said he was determined to find a treatment that could kill the cancer without impacting his lifestyle. He turned to the state-of-the-art radiation delivery device, known as CyberKnife, which delivers Stereotactic Body Radiation Therapy or SBRT. The system uses artificial intelligence to make sure the radiation hits only the tumor, leaving the healthy tissue unharmed. 
"When I was first told I had cancer, fear overtook all logical thought. Will I survive, what kind of treatment will I have, what about my family? Learning about the CyberKnife System gave me hope for my future. CyberKnife was a simple, pain-free treatment that enabled me to continue enjoying my life. Grateful to the successful treatment, I named my most promising horse Cyberknife," said Gold.
CyberKnife's True Odds: 98% Cure Rate for Prostate Cancer 
Here is the best part if we are talking odds: CyberKnife has a 98% cure rate for prostate cancer. That is no-long-shot, according to Dr. Mark Pomper, board-certified radiation oncologist and medical director of the CyberKnife Center of Miami.
"There is a general thought among surgeons that surgery is better for men under age 60 because of radiation's long-term effects may cause problems years later, like impotence and incontinence, but that's not what research is proving. Surgery has long term effects too. CyberKnife has few side effects. Its pinpoint radiation beams hit only the prostate so we can give a much higher dose with a lot fewer treatments, leaving healthy surrounding tissue unharmed. There's over 20 years of published studies supporting the effectiveness and safety of CyberKnife for prostate cancer," says Dr. Pomper.
Cancer Treatment Miami
If your doctor recommends radiation for prostate cancer, the experts at the CyberKnife Center of Miami can help.  In fact, a 12-year study presented at the 2020 American Society for Radiation Oncology meeting, reported that SBRT, the type of radiation used by CyberKnife, has high rates of long-term cancer control with mild toxicity.
It is quicker and has a high safety profile. 

It causes less disruption to patients' lives.

It is noninvasive. 

No need for anesthesia or cutting. 

It does not come with the risks of surgery like infection and prolonged periods of downtime.

CyberKnife treatments can be done in

five

radiation therapy sessions over 10 days. That is compared to up to forty-five over three months with other types of radiation treatments.

The CyberKnife radiation beams, which target and destroy the tumor, are so precise. That means there is less risk of side effects including impotence and 

incontinence.
If you would like to find out more about prostate cancer treatment with CyberKnife, call us at 305-279-2900 or go to our prostate cancer website now for more information. 
CyberKnife for the Win!
Mr. Gold and Cyberknife, his horse, are true real-life inspirations for both horse racing buffs and prostate cancer patients. 
Join us as we will be watching and cheering Cyberknife on during the Kentucky Derby Saturday May 7th. Post time is 6:57 pm Eastern Time on the NBC TV Network. Of course we are hoping to see a victory, however even more importantly, we hope for a victory for every prostate cancer patient in South Florida, nationwide and around the world. Like Cyberknife, the racehorse, our goal is to get you to the finish line first. We put patients first, helping them get back to their lives, faster.