CyberKnife Cancer Treatment For
Breast Cancer
Breast Cancer Treatment in Miami, FL
CyberKnife Radiation Therapy for Breast Cancer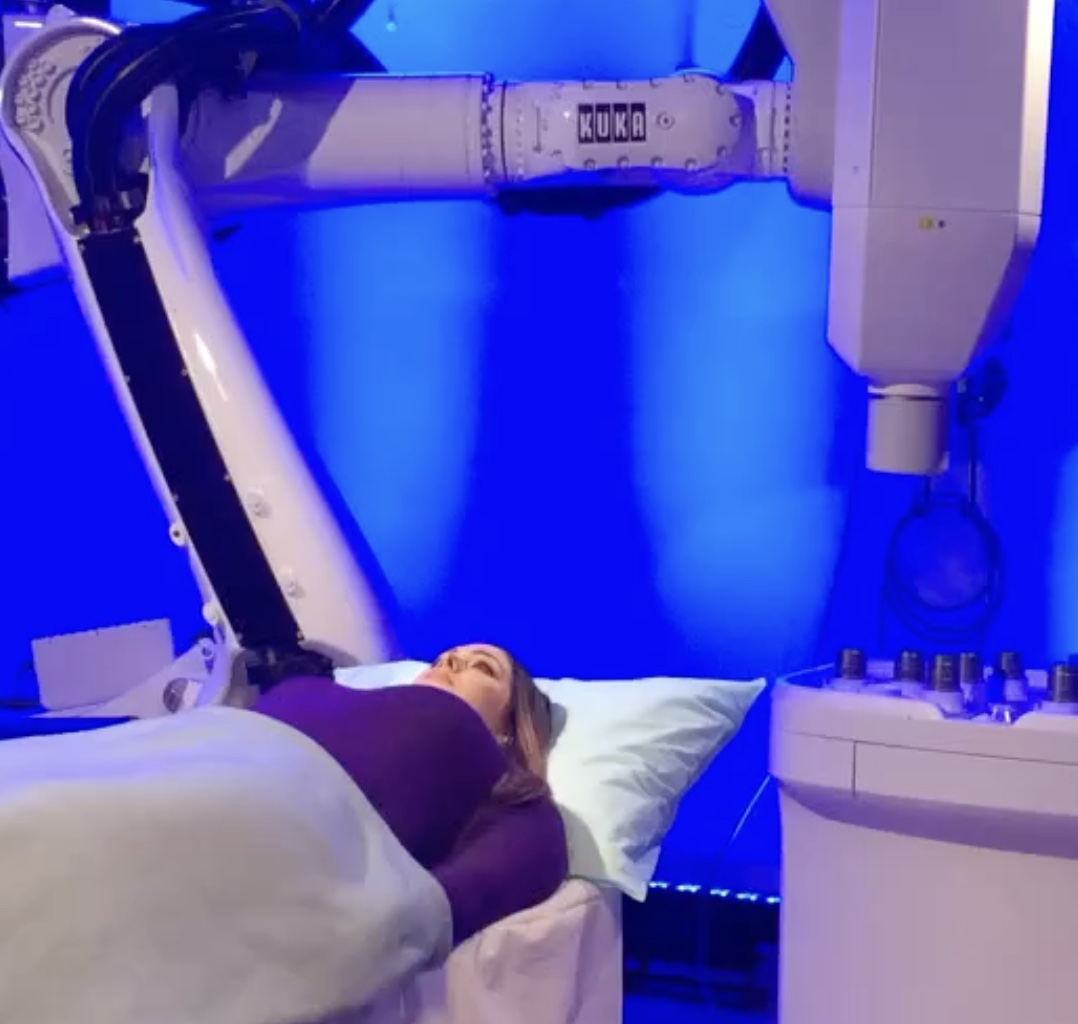 How Can CyberKnife Treat Breast Cancer?
When malignant tumors grow, individual cancer cells frequently break away to metastasize. They travel through the lymphatic vessels, blood vessels or, less commonly, along surfaces on the inside of the body cavity. The origin of a cancer can affect where it will spread. The bone, spine, brain, liver, and lungs are the most common locations for tumors to metastasize.
Stereotactic body radiation therapy (SBRT) and stereotactic radiosurgery (SRS) performed by the CyberKnife has emerged as an excellent treatment option for those patients who are not surgical candidates, have failed chemotherapy treatment, or have run the course of treatments and been told there is nothing left to do.
The CyberKnife has the ability to constantly track and target tumors as they move when a patient breathes, and it can precisely destroy cancer cells in just one to five treatments or a course of treatment.
Research continues to demonstrate a 90 percent control rate for certain types of metastatic cancers treated with CyberKnife SBRT or SRS.
It is an effective treatment option for metastases with an extremely low likelihood of side effects and a good alternative to surgery and conventional radiation therapy.
Patients with complex tumors and those seeking non-invasive ways to treat recurring cancer and metastatic tumors can benefit from treatment with the CyberKnife.
Despite its name CyberKnife is not a knife at all.
It is a cutting-edge radiation technology also known as stereotactic body radiation therapy (SBRT).
CyberKnife's robotic missile guidance and imaging technology allows us to achieve a high level of accuracy by pinpointing a tumor's exact location throughout the treatment, resulting in successful outcomes.
The CyberKnife system can also continuously pinpoint and follow a tumor's exact location as the patient breathes normally while on the treatment table, enabling the doctor to zero in on the moving tumor and focus hundreds of radiation beams from different angles, all attacking the tumor site.
Using this method, the CyberKnife system is able to deliver the highest dose of radiation possible while avoiding damage to the surrounding sensitive tissue and other critical structures.
The medical team will determine the size of the area being targeted by radiation and the dosage, as well as identify critical structures – such as vital organs – where radiation must be minimized.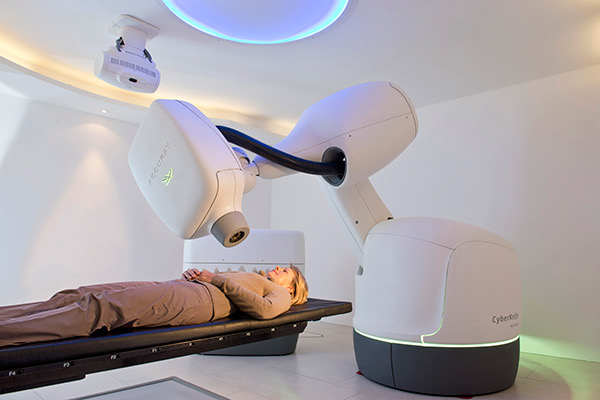 What Can I Expect From CyberKnife Treatment?
The CyberKnife treatment is completely pain free. Patients dress comfortably in their own clothes and can bring music to listen to during the treatment.
Nothing will be required of the patient during the treatment, except to relax. In fact, patients often sleep through the treatment.
There are generally only minimal side effects from CyberKnife treatments.
Response to treatment varies from patient to patient. Clinical experience has shown that most patients respond very well to CyberKnife treatments.
After completing the CyberKnife treatment, patients will schedule follow-up appointments.
"I can't believe I feel so good. Life is great despite living with metastatic cancer for 20 plus years!"